PROFILE
McIntyre & Bauman Group is the private investment firm of the McIntyre and Bauman families. Investments include mining and real estate, predominantly in the Western United States.
Frederick C. Bauman and Barbara McIntyre Bauman are the Managing Members of Searchlight Exploration, LLC and its group of companies.
John B. McIntyre, our co-founder and senior geologist, passed away on May 10, 2008 at the age of 83. We mourn his loss deeply and will miss his encyclopedic knowledge, quiet dedication and encouragement. John was the original trustee of the McIntyre / Bauman New Jersey Trust; Morgan Bauman is successor trustee.
Carl F. Bauman passed away on September 4, 2008. We will miss his intellect, unconventional approach to life and commitment to service.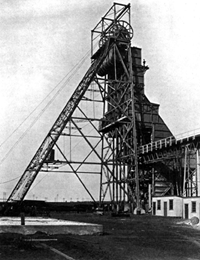 McIntyre & Bauman Group heritage:

General John D. McIntyre was the first mining engineer at the Great Homestead Gold Mine in the South Dakota Black Hills more than a century ago. He later owned and operated other gold mines in the Pacific Northwest, British Columbia and Alaska, as well as a steel company.

Montana Senator William A. Clark was the inspiration for the Company's Arizona / Montana strategy (although we sold our last Montana asset in 2013). Senator Clark was known as Butte, Montana's first "Copper King." His United Verde Copper Mine in Jerome, Arizona was the richest individually owned mine in the world at that time.